9 Restaurant Marketing Ideas That Work
With the rise of digital marketing, it's never been easier for restaurants to attract new customers.
Yet, very few restaurants are fully taking advantage of all the marketing possibilities available. Most restaurants opt to rely on word of mouth and having a loyal repeat customer base.
Word of mouth can work for well-established restaurants that have developed a strong reputation over many years. But for newer restaurants, it's essential to explore your options with marketing to bring more customers in.
60% of restaurants fail within one year and 80% go out of business in five years. Of course, having good food is always crucial to the success of a restaurant. But customers are the lifeblood of your business.
In this post, you will learn proven marketing strategies to attract new customers and keep customers coming back. Some of these ideas are very easy to implement and you could get started on them today.
#1 – Create Your Google My Business Listing
Google My Business is a free listing you can set up to ensure your restaurant displays prominently on page 1 when people in your area search for your restaurant. All you need is a Google account.
You have full control over your Google My Business listing and it allows you to upload photos, restaurant details and your opening hours.
Benefits:
Instant Google Ranking – If you're a new restaurant or have only just created a website, ranking up the top of Google can take months or even years. Google My Business allows you to get onto page one almost instantly.
Free local Google SEO – Unlike Google ads or building a website, it costs you nothing to create a Google My Business listing.
Quick Information – Those searching for your restaurant can get details including your opening hours and phone number without needing to visit your website.
Get Ahead of Competitors – Many restaurants are still yet to create a Google My Business listing. Creating your own listing will make you more visible on the world's number one search engine than these competitors.
Make it Easy For Customers to Call – Over 50% of Google searches are now performed on mobile. If you have set up your Google My Business listing, it will be the first thing customers see when they search for you. From there they can call you in just one click.
Fast Set Up – While a website can take weeks or even months to set up, Google My Business is fast and easy to get set up. It shouldn't take you any longer than 30 minutes.
Next Step:
Create your Google My Business listing here.
# 2 – Boost Your Facebook Presence with Facebook Ads
Facebook is still the world's number one social media channel and owns the second largest social media platform, Instagram.
It's likely the first social media channel most customers will visit if looking for information on your restaurant. While many restaurants just see Facebook as a way to gain some free exposure, it has the potential to produce so much more for your restaurant.
Yes, you can post on Facebook for free and this will get you some exposure at no cost. But you can reach a much wider audience through Facebook advertising.
Using Facebook advertising, you can reach thousands of potential customers who live close to your restaurant at a relatively low cost. Using the powerful targeting options available on Facebook, you can specify exactly what type of users you want to show your ads to.
Benefits:
Control your budget– Facebook advertising allows you to determine exactly how much you want to spend. There are no fixed-term contracts and if your ad campaign isn't performing well, you can stop it any time.
Reach Instagram users – Because Instagram is part of the Facebook network, you can set your ads to appear on Instagram with no extra effort required.
Build brand awareness – People have a tendency to prefer buying from businesses they are more familiar with. If someone has seen your ads online, this builds trust and familiarity. Using the brand awareness objective on Facebook ads, you can quickly develop your brand awareness without spending a lot of money. This will provide long term benefits to your restaurant.
Next Steps:
Use the Facebook ad library to search for ads being run by your competitors here.
Visit this step by step guide from Hubspot to learn how to create your first Facebook ads campaign.
Read this post on marketing psychology. Understanding what motivates customers will help you to create much more compelling ads.
See Examples of Highly Effective Facebook Ads in This Article
# 3 – Get Professional Photos Taken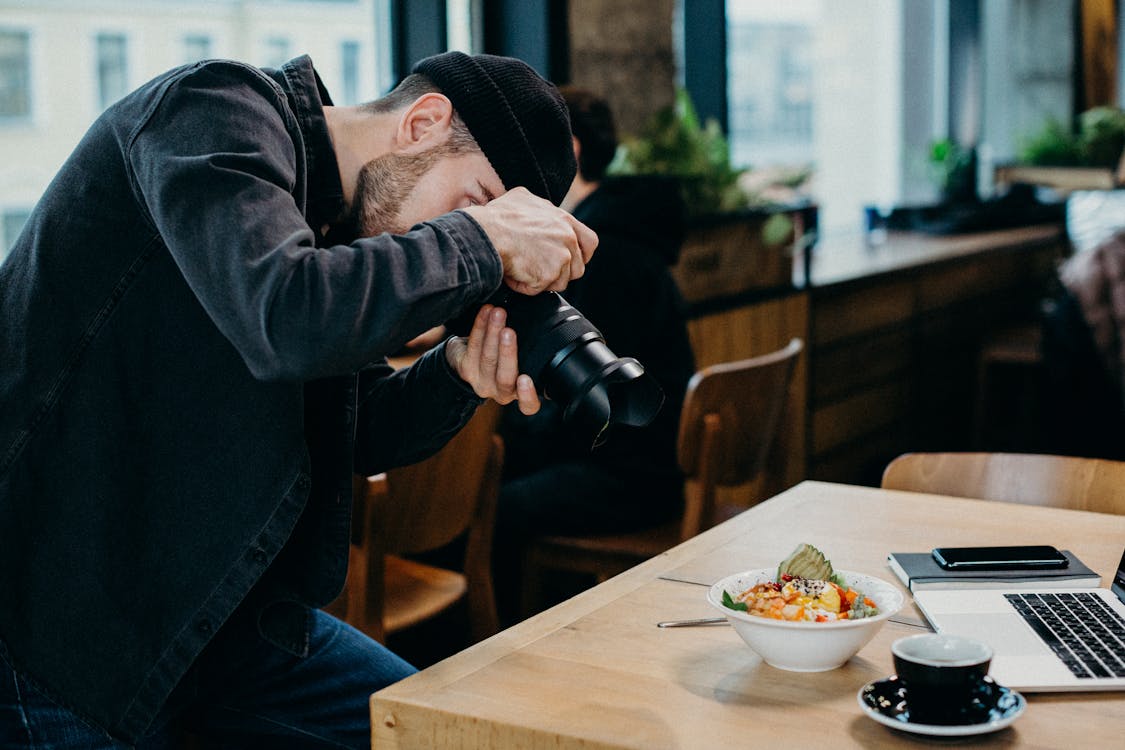 Getting some professionally taken photos at your restaurant will help you to make a good first impression with customers online.
These photos can be used on your website, throughout social media, on your Google My Business listing and on other restaurant directory websites.
A good photographer will be able to make your food look as appealing as possible and capture the atmosphere in your restaurant. Because most humans are very visual, a lot of potential customers will form an impression of your restaurant simply based on the photos they find online.
Benefits:
Stand out from competitors– Your restaurant will instantly look more appealing than competitors who don't have professionally taken photos
Re-use photos – You will be able to reuse these photos throughout your website, social media, review sites and online advertising
Actions:
Search local photography groups on Facebook to find a photographer who can come in and take some photos for you. Try to find someone who has experience with food photography. Student photographers can be OK if you're on a limited budget.
# 4 – Create An Email Newsletter
Once you've got customers coming in the door, you want to keep them coming back. If you're in a competitive area, it's easy for customers to forget about you even if you give them a great experience when they dine with you.
An email newsletter is a way for you to stay in your customer's minds. It doesn't need to be weekly, even a monthly newsletter will help to get customers coming back.
Although some people think email marketing is dying, it's still consistently ranked as one of the most profitable marketing activities for businesses across all industries. A huge 80% of businesses say that email marketing increases their customer retention.
Benefits:
It's a free way to promote your restaurant – When you run ads (online or offline), you're constantly pumping in more money to keep the ads running. But when you build an email list, you can promote to that list for free. Some email marketing services will charge a small monthly fee but most offer a free plan when you're getting started.
Develop a more personal connection with customers – An email newsletter is your opportunity to make customers feel more involved with your restaurant. You can share your story with customers, introduce your staff members, let them know about anything interesting that happened in the past week.
Actions:
Ensure you have a branded email address to send your newsletters from. Eg. info@restaurantname.com. If you have already registered your website domain name, you should be able to set up a branded email through the domain name provider. Otherwise, you can set one up for free with Zoho Mail.
Register for Mailchimp – a free email marketing service. There are many other email marketing services available but Mailchimp offers a free plan and is easy to use.
Start collecting customer emails – you will see some ideas on how to do this below.
# 5 – Use Google Ads
It shocks me how few restaurants really take advantage of Google ads. Every day, hundreds of people are searching for Google for the best Italian restaurant in your city. Or Chinese restaurants in your city.
There are over 8000 searches every month in Australia for "Japanese restaurant Sydney."
These are people who most likely want to find a restaurant to eat at within 24 hours. And you can have your restaurant show up at the top of the page on these searches.
With Google ads, you only pay when someone clicks on your ad. And the price you pay per click will depend on how competitive your local market is.
When people click on your ad. they will be taken to your website so it's important to have a well designed website (see strategy #9).
Benefits:
Reach people at the right time – If someone is searching for restaurants on Google, it's a very good indication that they're wanting to eat out soon.
Flexibility and control – You will have a lot of flexibility with the Google ads you run. You can tell Google how much you want to pay for a click, what times you want your ad to display, what searches to show your ads on, what webpage you want users to go to. And these settings can be changed any time.
Easy to monitor and measure – Google will give you lots of data on how effective your ads are. You'll be able to see how many clicks you get, how many people are seeing your ad, what you're paying per click and much more.
Instantly outrank competitors – Ads are usually shown before free results on Google. This means you can instantly get your restaurant above competitor listings who aren't using Google ads.
Actions:
Read our article on some of the best Google ads for examples.
Set up a Google Ads account to get started,
# 6 – Invite Local Social Media Influencers
In recent years, influencer marketing has attracted a lot of money and attention from big brands wanting to get their products in front of new audiences.
These influencers have built up loyal and engaged followings on social media. Just one post from them can get your business in front of thousands of loyal fans.
Influencer marketing isn't just limited to big brands working with influencers with 1 million + followings. Even local restaurants can benefit by working with smaller influencers.
Your best option is likely to be finding local influencers who have 10,000 – 50,000 Instagram followers. These influencers are likely to be more affordable and willing to do a promotion with your restaurant. In some cases, it might just take a free meal to get a post from them.
Benefits:
Instant trust – These influencers have spent a long time building trust with their audience and if they post about your restaurant, that trust will be carried over to your business.
Cost-effective – Many influencers still under-value their audience, meaning influencer marketing can be very affordable compared to other promotions.
Gain extra content – When you invite an influencer to come in and dine at your restaurant, be sure to get some photos or videos that you can use on your own social media channels.
Actions:
See this list of free tools to find social media influencers.
Start building a list of influencers in your city who you could invite to your restaurant.
Begin messaging these influencers, offering a complimentary dinner. You may need to test a few different approaches to see what gets the best response.
# 7 – Make Sure Your Website Creates A Good Impression
Having a clean and well-designed website will give you a big advantage over other competitors.
For many customers, your website will be the first interaction that they have with your business. If your website is hard to use or looks outdated, this will create a bad first impression. And that impression is likely to influence their expectations about your food.
When designing your website, it's important to consider why customers are going to visit the website. Make it as easy as possible for users to get important information such as phone number, opening hours and a menu.
Benefits:
Improve customer perceptions – A well-designed website will give customers a positive perception of your restaurant before they even visit you.
Get more customers from Google – By taking the time to create a good website, you will improve your chances of ranking on Google or other search engines. If your restaurant appears in the top 3 results when users search for restaurants in your local area, this can become a huge source of new customers.
Actions:
You can quickly build your own stunning restaurant's website here and host it for $18 a month. You can also find a guide here walking you through creating your restaurant's site here
Keep your restaurant's menu & pricing up to date on your website and anywhere else it is online.
# 8 – Use Facebook Messenger to Reach Customers
Facebook Messenger is the world's second most used instant messaging app, with over 1.3 billion users. And most of your customers are probably using Messenger every day to talk to their friends. But very few restaurants are taking advantage of this incredibly powerful platform.
Combined with Facebook ads and regular Facebook posts, Messenger can be very effective for your restaurant. It gives you a way to start a conversation with your customers and cut through the rest of the noise on the internet.
There are many ways your restaurant could leverage the Messenger platform. But if you have an active social media following or you're running Facebook ads, I suggest starting with the comment to messenger tool.
This basically allows you to automatically message anyone who comments on one of your Facebook posts in Messenger. You can learn how it works in this article from Digital Marketer.
Benefits:
Automate messages – If your restaurant receives a lot of common questions through Messenger, you can automate responses to these questions to save time. You'll just need a tool like Many Chat to do this.
Capture emails and phone numbers – You can use Messenger to capture email addresses and phone numbers from customers. This opens the door to email and SMS marketing, which are both effective ways to communicate with your customers.
It's inexpensive – You can begin using Facebook Messenger in your restaurant for free. I recommend using a tool like Mobile Monkey or Many Chat, both of which offer free plans.
Actions:
Read this case study to see how one restaurant used Facebook ads and Messenger together to generate new business.
Create a free account on Mobile Monkey or Many Chat and connect it to your Facebook page.
Watch this YouTube video to see how you could build in your own ordering system and rewards program through Messenger.
#9 – Boost Your Promotions With Limited Time Vouchers
Maybe you're already running promotions throughout the week. Many restaurants will run promotions such as 'cheap Tuesday' for example.
But these regular weekly promotions don't create any urgency. Customers know if they miss your Tuesday promotion this week, it will still be there the following week.
So what can you do?
Try using vouchers with an expiry date. This creates a sense of urgency with the customer, they won't want to miss out on claiming their offer before it expires.
I recommend using this strategy in tandem with Facebook ads (see strategy #2). You should use a system that allows you to track when a voucher has been redeemed. This will allow you to work out exactly how much revenue you're generating from your Facebook ads.
If you're building a customer database or email list, try to collect customer's birth dates. You can then send customers a voucher that they can redeem on their birthday or within 30 days.
Using Facebook Messenger or email, you can also set up automated reminders for people who haven't redeemed their voucher yet.
Benefits:
Attract new customers – A limited time voucher is a great way to get first-time customers into your restaurants. If you can bring them in with a voucher and then give them a great experience, they can then become long term, repeat customers.
Build a customer database – If people have to enter their email and phone number in order to receive their voucher, you're building a database of potential customers. You will be able to use this database to continue marketing to potential customers in the future.
Summary
You now have multiple strategies to test that can all help bring more revenue into your restaurant.
It's not necessary to start using all of these ideas at once. But try to choose at least 2-3 that you're not already doing and try them out over the next few months.
Some ideas will work better for your restaurant depending on how competitive your area is, the clientele you cater to and what budget you can allocate to marketing.
Need help setting up any of these strategies in your restaurant? Send us a message on Facebook and we'll help you out.